Even before they were married, Maxine and Harmon Thurston had always talked about starting their own business together.
In 1960, under the name of "Furniture by Thurston", they tried their hand at making coffee tables that could be shipped knocked down. It wasn't until Maxine was unable to find a footstool for herself that they decided they should be making footstools. With set of simple tools in a one car barn located in rural Vermont, the Thurston's were in business! Selling through local craft shows, things really took off when the Thurston's ran a small advertisement in Yankee Magazine. The increased business allowed them to expand into other products.
"We grew from stools to wagon seats, benches and anything with a straight line cut."
Moving into a succession of larger shops over the years, they settled into their current location in the town Brandon, VT. In 1972 they began to sell a variety of furniture including bedroom sets to Workbench stores in New York City as well as to the college market. The company name was officially changed to "New England Woodcraft" in 1976 and while the business was growing steadily, there were a few setbacks. In 1985, an electrical fire burned the machine shop and the warehouse to the ground. Quick action on Harmon's part saved the 32,000 sqft assembly shop and within six days they were shipping again without missing any delivery dates. Through it all, Maxine and Harmon kept the business going. "We never would have succeeded without each other". As Harmon also says "If it wasn't for our dedicated and determined employees making this all happen, the company would not be what it is today". The company proudly employees 150 employees with a core group of over 40 who have been building quality furniture for over 20 years.
With family still active in the business, the machines are now larger and faster. However, the core values of the business have not changed since the first footstools were shipped. "Since 1960, we have been treating our customers to personal service, honest pricing and sturdy, sensible furniture."
A Heritage in Wood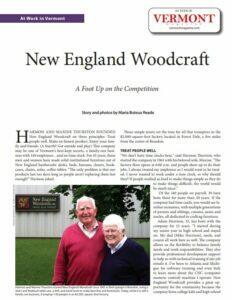 New England Woodcraft is honored to have been highlighted in Vermont Magazine.
Please click here and take a few minutes to learn about the history, the principles, and the people who make New England Woodcraft the special company it is today!
New England Woodcraft Super Senior
New England Woodcraft's founder is recognized on local news.